About Renée:
I have been training in all aspects of the Li-Style Family Martial Arts system for over 10 years, under Master Tony Swanson, Technical Director of the Taoist Arts Organisation.  I am a Black Jacket (Black Belt) Instructor in both Tai Chi and Sanshou (Sanda). 
I have been training in Martial Arts for 20 years, previously training in Shotokan Karate before discovering the Li-Style system.
I was immediately drawn to the breadth, depth, beauty and power of the Li-style internal Martial Arts and Health system, and continue to experience its benefits in my everyday life.
Tai Chi can help develop the quality of your movements, emotions and interactions with others, bringing a sense of tranquility and joy.
– There is always more to discover! 
I compete at National and European championships in Tai Chi, Tui Shou, Qingda, and Sanshou and currently hold British and European championship titles in these. 
I am a trained and qualified Martial Arts Coach with the BCCMA in accordance with  Sport England Martial Arts Coaching standards through my National Governing Body, the BCCMA.  I am fully compliant with Sport England Martial Arts Safeguarding Code. I regularly attend training and residential courses with the Taoist Arts Organisation to continually develop. 
I feel lucky to be able to coach and help my students develop and achieve their personal goals.
Class Information: 
Your first class is free!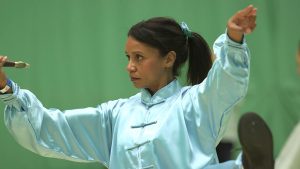 This class covers Tai Chi and Qi Gong breathing and movement exercises (Kai Men and Tao Yin). The main focus is on improving and maintaining good health.
Class starts with a Tai Chi warm-up followed by work on Tai Chi principles, posture, alignment, balance and flexibility, incorporated into Tai Chi Form and Qi Gong. Students have opportunities to test posture and understand martial applications.
All are welcome, whatever your ability or experience, whether aiming to boost health and wellbeing, train towards Forms competitions or self-defence training.
Please wear loose trousers and clothing and flexible flat non-slip footwear. Home practice is encouraged to help increase the benefits and your understanding of Tai Chi.
** This class is currently on hold due to Covid19 restrictions **